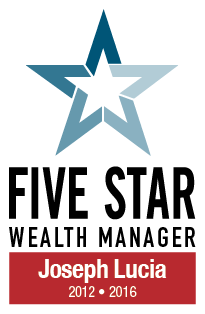 As an independent financial advisory firm, Joseph P. Lucia & Associates, LLC is not tied to any one provider – which means we answer to no one but you and always strive to put your best interests first. We start from the premise that no two clients are alike and that every situation deserves a fresh perspective. That's why we begin each client relationship by listening closely to what you want, what you need and what you hope for. Based on what we learn, we will create a portfolio that meets your unique needs and personal investment goals while holding your accounts with the stability and service of the largest custodian for registered investment advisory firms, Charles Schwab Institutional.

As a Registered Investment Advisor, Joseph P. Lucia & Associates, LLC offers what few others can – an unbiased relationship. We embrace the highest standards of care, characterized by good faith, honesty, integrity and loyalty. In this sense, our relationship with you is both ongoing and highly collaborative. We are always keeping a watchful eye over your portfolio, protecting and nurturing your assets while also bringing you innovative ideas and strategies to fine-tune your financial plan as your needs change and your vision unfolds.

We combine our understanding of your needs and our responsibility to you with an unwavering commitment to exceptional service. That means when you call, your questions are answered promptly, thoroughly and thoughtfully. Beyond this, Joseph P. Lucia & Associates, LLC offers you the experience of a team of seasoned financial professionals, as well as access to the latest technologies – all of which enables us to bring new insights and complete objectivity to the financial planning process.

In essence, our primary goal – our only goal – is to enrich your life by helping you stay focused on where you are going. To do that, we care for your financial well-being as if it were our own. And it is this philosophy that has led to the strong, long-standing client relationships that are our hallmark with Joseph P. Lucia, RFC being named "Best Wealth Manager of Greater New York" by Newsweek Magazine, and "Professional of The Year in the Financial Services Industry" by Cambridge as well as "Five Star Wealth Manager: Best In Client Satisfaction" by Hudson Valley Magazine and by Westchester Magazine.
We look forward to developing a long-term relationship with you and helping you reach your financial goals and dreams.